Setting Sail: Tiit Pruuli's Art Collection
This exhibition presents, for the first time, the art collection created by Tiit Pruuli during the past two decades. As Pruuli is a keen sailor and an ardent traveller, it is not surprising that the sea and sea-related themes are at the heart of his collection. Along with classic seascapes, there are works depicting the meeting points between the sea and people: paintings of ships and navigation, and views of ports, harbours and fishing villages. The exhibition explores marine art in Estonia from the late 19th century until the present.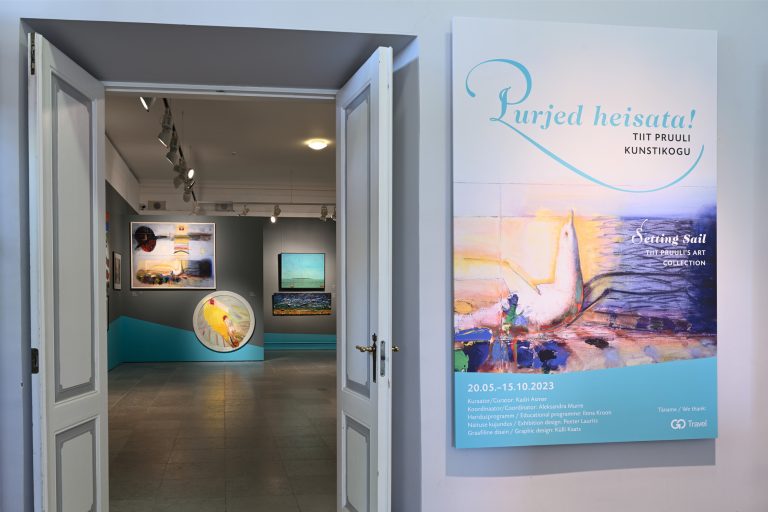 Sea-related themes have a special place in Estonian art. Some artists grew up in coastal villages (e.g. Richard Uutmaa and Richard Sagrits) or in the islands (Eerik Haamer, Kaljo Põllu and Erik Schmidt, to name a few), where sea and sea-related activities were part of daily life. Others grew to love the sea during their formative years as artists or later in their careers (Märt Laarman, Johannes Võerahansu, Evald Okas, Andres Tolts, Aili Vint and many others). The sea has inspired a wide array of paintings, from classic seascapes to paintings depicting maritime activities and sea voyages.
During the first half of the 20th century, marine painting and other landscape painting genres played an essential role in constructing the local identity, as Estonians were seen as "people of the sea and forest". The sea was a prevalent theme throughout the Soviet period, when the sea and nature were considered "neutral" subjects that allowed artists to adapt to the requirements of official Socialist Realism without compromising artistic values. Marine themes remain popular in contemporary art, with several younger artists (Saskia Järve, Kristi Kongi, Edward von Lõngus, Kaupo Kikkas and others) offering a modern take on this classic artistic genre.
Curator: Kadri Asmer
Exhibition design: Peeter Laurits
Graphic design: Külli Kaats
Works displayed